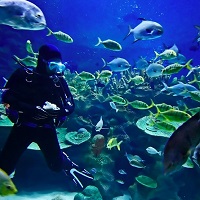 Reckoned for its adventurous activities, Andaman is abounded with islands that are enclosed by the coastal waters. The Scuba diving activity is popular amongst the tourists of Andaman. One of the specialties of Andaman is that the underwater formations and coral reefs are untouched by the human activity. If you are traveling to Andaman for Scuba diving, then you should definitely go for some of the best spots like lighthouse point, and other diving sites with ample of big fish action. Moreover, you can visit the north island that is an amazing diving site with coral mounds and hard corals.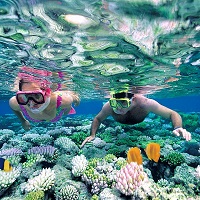 Do you often dream of swimming with various fishes, sharks and other marine creatures? If yes, then a snorkeling tour is the best for you. At Andaman Island, you can experience the underwater coral structures and shallow reef areas by signing up for a snorkeling activity. Snorkeling is a diving practice conducted under deep waters with various diving equipment such as a shaped tube known as snorkel, diving mask, and fins. On a beautiful tropical location, what else do you need if you have a snorkeling mask and a wetsuit? So, do not miss this mind-blowing experience and book your snorkeling trip now.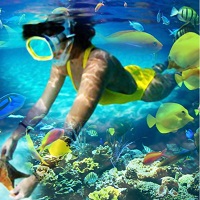 The popularity of sea walking is increasing amongst the tourists day by day. While visiting Andaman Islands, the underwater sea walk becomes one of the most exciting attractions for the tourists. Sea walking enables you to experience the splendid marine life, magnificent flora & fauna, and a variety of marine animals. However, it is important to go for a sea walk with certified professionals, as important safety measures should be taken. You can expect a proper underwater tour if you are going for an underwater sea walk.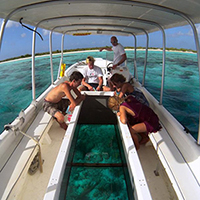 The glass bottom boat is designed strategically to give it a look of an aquarium from the bottom. The visitors can sit on the couches placed on top of the robust glass base of the boat. If you want to experience, the marine life without even getting wet, then booking a glass bottom boating is the best option for you. So, discover the beauty of the deep ocean by booking a bottom glass boat trip for you and your family. You must have enjoyed a horse ride or an elephant ride at some point in your life, but have you ever dreamt of riding on a dolphin? If you did, then it is time to make your dream into a reality. Adventurous Andaman is a trustworthy travel agency engaged in providing excellent services for conducting the dolphin ride for the adventurers. The duration of the dolphin safari may range from 30 minutes to 45 minutes. We will provide you a life jacket and some other safety equipment would be attached to your outfit before the ride. So, contact us anytime.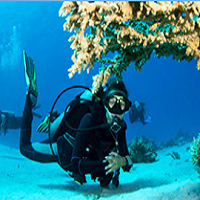 Water Sports at Andaman
We are tied up with major reputed club, centre and institute engaged in water sports at Andaman Islands to offer safe and secure water sports activities with best deals.